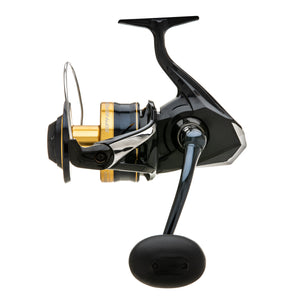 Yeehaa
Spheros SW
Regular price
$329.90
$0.00
The Shimano Spheros SWA have been engineered to handle the salt and take the knocks. The new Spheros SWA spinning reels offer even more angler confidence than ever before.
The new Spheros SWA features and IPX8 sealed body due to the combination of X-Protect and X-Shield, while the added feature of Infinity and produces effortless handle rotation even under heavy drags.
Packing 12 Kg of drag on the 10000PG and 14000XG and a massive 18kg of drag on the 20000PG model. Available in three sizes with specialist gear ratios for different fishing styles.
The 10000PG is designed for mechanical jigging, the 14000XG for top water fishing and the 20000PG with a huge line capacity of 400m of PE8 can handle even the biggest fish in NZ waters.
Features:
Shimano New Zealand provides a TEN YEAR WARRANTY on all Shimano fishing reels, against defects in materials and/or faulty workmanship.
These bearings have been through the same process as our A-RB bearings, but feature shields on both sides of the bearings that reduce the possibility of salt or sand inhibiting the bearings rotation.
HAGANE Body means this reel has a high rigidity and zero twist. The body stiffness and impact resistance virtually eliminates body flexing. The result transforms the anglers actions directly into cranking power. It's efficiency through strength.
HAGANE Gear is at the very heart of the reel and creates strength and durability. The entire cold-forging process is calculated in minute detail by special 3D design and the result is precision durability.
By supporting the pinion gear on both ends with our S-ARB bearings and integrating a bigger drive gear, Shimano increased the gearing efficiency and power. This results in a fishing reel with ultra-light handle rotation, giving a perfect rotation even under heavy loads.
Through tens of thousands of casting tests and computer simulations it has been determined that this new AR-C spool lip design provides longer casting distances than a standard spool lip design while preventing backlashes and wind knots from forming. It also allows the line to flow off the spool in smaller loops during the cast, which means less slap on the stripper guide. This means longer casts ...
Specification:
Product Code: 20000PGA
Retrieve Per Crank: 105 cm
Bearings: 4+1
Max Drag: 18 Kg
Weight: 930g
Powerpro Cap: 80/400 lbs
Gear Ration: 4.4:1