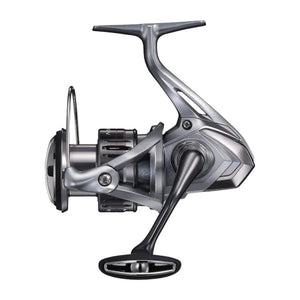 Shimano
Shimano Nasci
Regular price
$179.99
$0.00
NASCI is a high-performance model that satisfies a wide range of anglers from beginners to experienced anglers! HAGANE GEAR are used in the main gears that support the reel's rotation, making it suitable for hard use. In addition, the NASCI is equipped with SILENTDRIVE for the first time. This improves the behavior of the spool when it moves up and down and the stability immediately after the retrieve is stopped. The waterproof function of the COREPROTECT prevents water from entering the body. This model can be used for a long time with its sophisticated design.
-Hagane Gear HAGANE is a Shimano reel design concept created to withstand continual use and extreme abuse. HAGANE is an innovation with built-in toughness and durability that works alongside Shimano's precision engineering. 
-Silentdrive The basic design of the entire body and drive-related parts were reviewed one by one to reduce minute rattles, gaps, and shaking between parts down to the smallest detail. It provides smooth and quiet reel rotation.
-Coreprotect is a water-repellent surface treatment that is implemented at key locations of a spinning reels structure. This creates a beading effect that prevents water ingress through precise manufacturing tolerances between moving parts. Since there is no contact water resistance can be improved without negatively impacting rotational resistance.
---
More from this collection