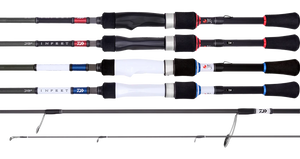 Daiwa
20 Infeet Light Tackle AJI Spin Rods
Regular price
$219.99
$0.00
Daiwa has long been leading the way for light tackle sport fishing equipment. It began with brands like Gekkabijin now has come full circle, with the release of the 20 INFEET rod range. Gleaned from years of experience in creating the pinnacle of finesse rod designs in Japan and Australia, combined with the insight and expertise of top Daiwa Australia Pro-Staff, the 20 INFEET range is like nothing ever released before.
The three available price ranges in the NZ market can cover all anglers' budgets, there's nothing a serious light tackle angler would need that INFEET can't deliver. Designed with deliberately shorter butts than all other Daiwa rods before them, INFEET has benefitted from all the hours of experience from Daiwa's R&D team and group of anglers.
20 INFEET is the initial range in the INFEET family, consisting of 5 of the most in demand models for serious light tackle anglers. Utilising Daiwa's X45 and HVF technology, INFEET rods are incredibly light weight, weighing in under 90g for all models. This lightweight design delivers incredible sensitivity, allowing anglers to detect the most timid of bites on light line. INFEET features brand new exclusive Daiwa reel seats, which have been sculpted to perfectly fit into anglers' hands to provide a comfortable, reassuring fit even in wet and cold conditions. Fitted with Fuji Fazlite guides, the latest in affordable brilliance from Fuji, precise line flow and trouble-free casting performance is a given. Size #5 tip guides provide enough diameter to pass more bulky leader knots while not disturbing the responsiveness of the lightweight sensitive blanks.
BEST APPLICATION PER MODEL
6101LFS
This model is the tight-cover specialist, designed for fishing both hard and soft lures tight against floating structure where careful presentation trumps brute force. A sensitive tip is perfect for placing precise skip casts into pontoons or boat hulls, and the fast taper is equally at home presenting subtle yet distinct movements to suspending hardbody lures. Whether you're fishing grubs or a small minnow right against structure, think about opting for a shorter rod for an unmatched approach. 
702LRS
The 702LRS is the all-rounder of the range and can be utilised in almost any circumstance. A regular taper protects timid hooksets with treble hooked baits, whilst the moderate yet responsive blank means twitching small soft plastics is no problem. The 702LRS features a butt-joint construction to help the travelling angler stay within airline baggage limits.
722ULRS
The first ultra light rod in the INFEET range, the 722ULRS is a keen crankbait angler's dream. A soft, moderate taper ensures fragile hook-ups remain pinned, ensuring you land more fish once convincing them to bite. As has been synonymous with the INFEET range since they launched, exceptional casting performance can be expected, even with ultra light regular taper rods. A butt-jointed construction ensures this rod can be travelled with on most airlines whilst providing the comfort of a single-piece construction.
732LFS
One of the standouts in the INFEET range and most requested action from amongst the Daiwa pro team. The 732LFS is the 'go-to' rod for soft plastic fishing where delicate action is required to get the most from lures like the BaitJunkie 2.5" Grub & Minnow. A faster action delivers the perfect tip to twitch and rip plastics around structure or over open areas, and the slightly more powerful butt section provides the assurance you'll extract those fish from cover once hooked. Once again, a butt-joint construction means even at 7'3", this rod can be broken down to fit within most airline travel restrictions.
 762ULRS
A true mid-joint two-piece rod, the 762ULRS is another crankbait wonder, capable of long casts over shallow areas. The longest rod in the 20 INFEET line-up, the 762ULRS was designed for long-distance casting whether you're throwing hard or soft lures. A slightly longer handle length compared to the rest of the series, the 762ULRS is most suited to long-distance two-handed casting techniques.