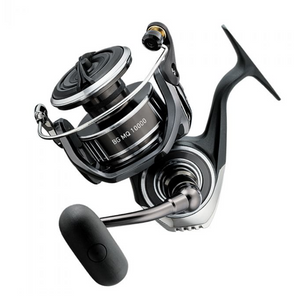 Daiwa
20 Daiwa BG MQ
Regular price
$399.99
$0.00
Daiwa's BG series has changed the game of what affordable quality looks like in heavy-duty spinning reels. Now, by combining Monocoque Body (MQ) technology with the mass market appeal of BG, 20 BG MQ is born.
Monocoque Body (MQ) is the single biggest revolution in spinning reel design from Daiwa by totally eliminating the traditional two-piece body construction. MQ reels don't use any side plates and feature a completely screwless body design which eliminates potential entry points for water & grime, and significantly enhances overall body strength and rigidity. 
The screwless design principle of MQ bodies are also significantly more compact than a standard body design. Screws need material to grip to, and that means more overall size and more mass in traditional body designs. By replacing the side plate with a machined aluminium engine plate which screws directly into the reel body, MQ reels can maximise the internal space made available by using larger size drive gears than before.
Throughout the entire line-up of BG MQ, vast improvements have been made to almost all areas of the reel design. The drag has been improved both in maximum capacity but also in smooth overall performance, drastically reducing the friction of the Carbon ATD drag - BG MQ's drag performance is unmatched by the competition.
The MQ body construction not only has the obvious benefits of a stronger & more compact body design, it also delivers an increase in gear durability thanks to absolute zero movement of drivetrain components once installed inside an MQ body. Weather-sealing is also significantly improved, with seals visible in multiple locations throughout the reel, BG MQ is built for the harshest of environments.
Casting performance has also been improved with the implementation of Long Cast ABS (LC-ABS) spool design. LC-ABS spool design improves line flow from the spool, resulting in increased casting distances across the board with both heavy & light lines.
Small size BG MQ (2500-4000) feature dramatically larger sized drive gears. Middle sized models 5000 & 6000 now feature the Rigid Air Rotor design, maximising strength and appeal for mid-weight sportfishing applications. Larger size BG MQ from 8000-20000 receive huge benefits as a result of the MQ body, with the leg & main body drastically increased in strength without increasing weight.
BG MQ marks a new era in affordable saltwater spinning reels from Daiwa, with MQ technology now available to everyone. Available from 2500-20000 size, BG MQ is now aligned with 20 SALTIGA sizing.
---
More from this collection